Manufacturing excellence across Yorkshire was celebrated at the annual Made in Yorkshire awards ceremony.
Members of the fast growing network joined senior staff and other delegates for the reception, which took place at the Malmaison hotel in Leeds.
Those attending the event also heard from the newly-appointed chairman of Made in Yorkshire, The Lord Whitby.
There were five award categories: Longest Serving Member, Young Inventor, Best MIY Collaboration, Biggest Change and finally, Most Engaged Member.
The winner of the Longest Serving Member award was Pennine Pneumatic Services (PPS), which has been a member of the network since July 2015. Runner-up in the category was Greyhound Box, which joined the organisation a month after PPS.
As a founding member of the network, PPS has seen the group go through a lot of changes. Always one to throw its hat into the ring no matter what is going on, the company has consistently engaged with the network, recognising the value this brings not just to itself, but also to other manufacturers.
Last year PPS also brought into the ranks its sister company, SIMM Engineering in Sheffield
We await developments at both firms with interest and can't wait to see what the next stage of their membership brings.
Greyhound Box and its faithful mascot Greyham the Robox are instantly recognisable to MIY members attending the annual exhibition and their presence always lifts the event.
One of the most popular awards each year is Young Inventor, which recognises the remarkable talent being demonstrated by students throughout the county and this year's winner was no exception.
Seventeen-year-old Jasmine Roper, a student at Scarborough UTC, wowed the judges at her panel when she presented her product to our manufacturers. Not only was her project well thought out, incredibly researched and feasible but in reality it has the opportunity to save lives.
Jasmine has created a more effective life preserver for those who get into trouble in the sea. She was inspired to develop the idea after seeing a number of incidents on the coastline while growing up in Scarborough.
Jasmine made sure her project would fit into British standards and spoke to the RNLI to ensure what she was creating would work in reality. We see a very promising future for Jasmine in Manufacturing and Engineering and we are sure this win will be the first of many.
Jasmine is pictured below receiving her award from from John Pendleton, MIY President (left) and Jason Pitt, CEO, Made In Group.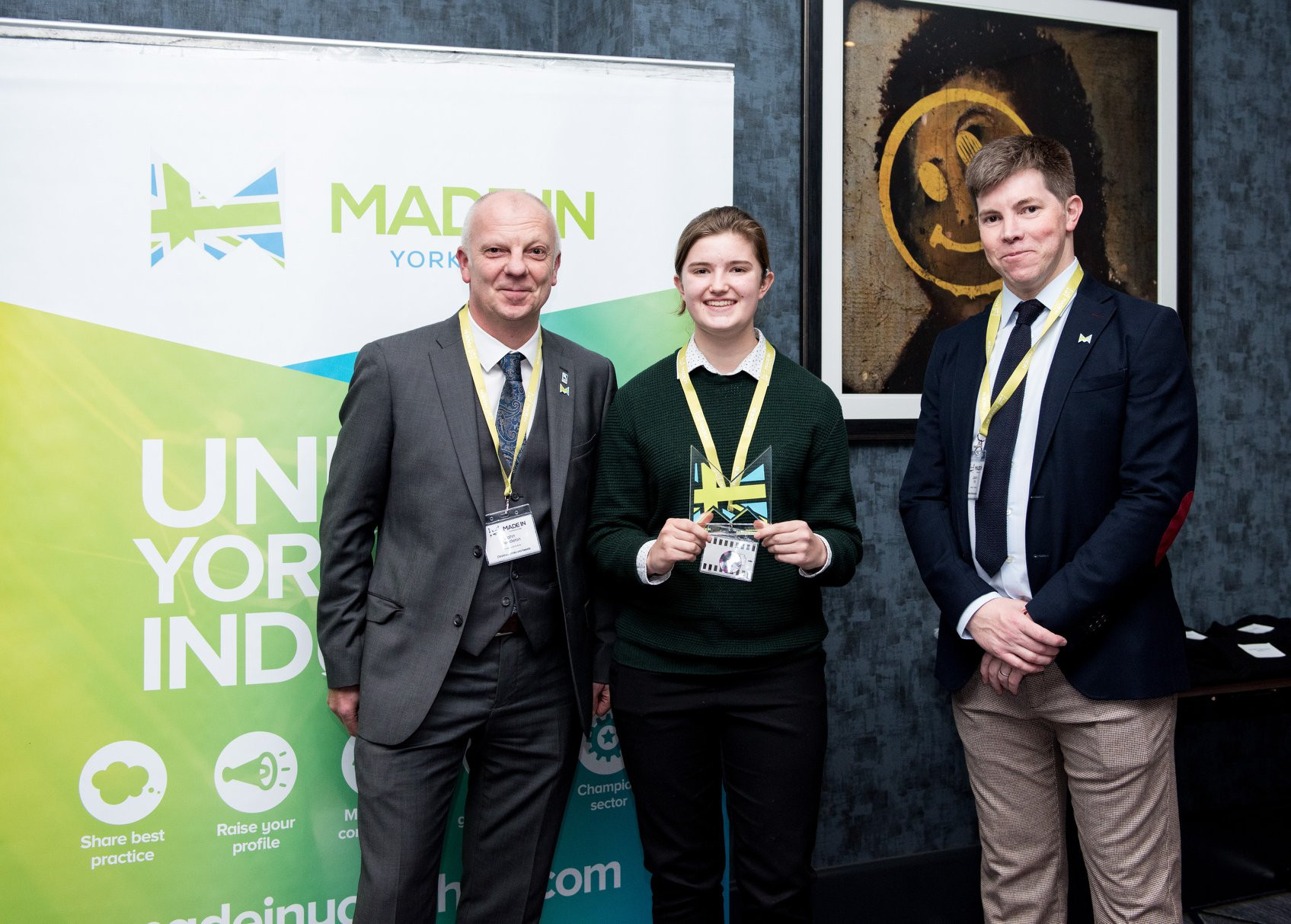 Runner-up in the Young Inventor category was Louis Font, a student at Sheffield UTC, who has aspirations of a career in motorsport.
The members sharing Best MIY Collaboration were ActionPlas and Winder Power, whose collaboration began after a chance meeting at a MIY breakfast networking event hosted by ActionPlas.
At the meeting, Ruth Gosnay, Head of HR for ActionPlas, was chatting with her opposite number at fellow MIY member and near-neighbour Winder Power, Kerry Fennelly. Following the discussion, both recognised that as the only HR representatives at their respective companies they should work together.
As a result, both are now able to run queries past one another to without the need to recruit additional help.
The pair try, work permitting, to meet as often as they can and if not email each other a least once a week. It is still early days but moving forward the two hope to enter into some joint ventures such as 'Lunch and Learn' sessions which would involve both ActionPlas and Winder Power employees.
Winner of the Biggest Change category was AUS UK, which has experienced huge growth during 2018 and because of this the company has been able to set about creating a strategy to ensure that growth is managed in a sustainable way.
Early in the year the company settled into new, larger premises with the additional space capable of supporting the growth ambitions. The extra space has also allowed the firm to bring in-house parts of the manufacturing process that had previously been outsourced.
The company also engaged in a Knowledge Transfer Partnership with Huddersfield University which saw a post-graduate student design and test products which then went through Network Rail's approval system and passed.
The change implemented by the company has seen turnover double.
Runner-up in the category was Bronte Precision Engineering, which implemented change following a Fit 4 Nuclear initial audit which gave the company a score of just 27%.
The poor grade prompted the company to take a hard look at itself. It examined the 55-point framework produced by F4N and identified what change was practical for the business and what the impact would be on staff.
Employee feedback helped identify in which order the improvements should be made, this feedback also helped the firm create bespoke progression plans to better retain staff.
The whole company began an audit process for stock, spares, health and safety, and the entire shopfloor was reorganised, with new machinery purchased, new staff hired and more CSR schemes engaged in. New ISO accreditations were achieved, 5S was implemented and the company set off to collaborate more across the region. Its journey is not yet complete but it it well underway.
The award for Most Engaged Member went to Emma Armitage, of Excel Water.
Emma initially joined MIY to connect with other companies in the local area and extend her support network. But since then she has gone on to achieve much more. Emma has found herself a mentor in the group, received training and advice and sourced new suppliers and customers. She is always there to help another member if she can and has recently supported another member by sharing her past experiences of the same problem.
Emma not only frequently attends Made in Yorkshire events but takes every opportunity offered to also network with the wider Made In Group, even attending the Made in the Midlands Exhibition, where she sourced herself a valuable supplier from the Midlands network.
Emma also attended the Made in London launch event to see how she could work with the next expansion of the group. By throwing herself into every opportunity presented to her Emma has been able to become an integral part of the network and reaped the benefits this presents.
Emma said: "When I first joined Made In Yorkshire my primary motivation was to connect with other companies in the local area and extend my support network, what I have actually gained from membership is so much more. Over the course of the last year and a half I have had to opportunity to network with the wider Made in Group, found a new mentor, received some fantastic advise on best practice, had some excellent training, developed my own networking skills and found new suppliers and customers.
"Anyone who knows me will know I am passionate about the Yorkshire region and developing the growth of this county so anything I can do to help other business owners grow their business in the region is time well spent."
Emma is pictured receiving her award from MIY President John Pendleton (left) and Jason Pitt, CEO, Made In Group.
Runner-up in the category was Shaun Bedford, of Holmesterne Foods.
Shaun joined MIY to help support a new area for the organisation namely, better engagement with Food Manufacturers. Since his arrival, five companies aligned within this sector have followed his lead and created the start of what is sure to be a powerful arm of Made in Yorkshire.
Shaun is a frequent attendee of MIY events and is a valued supporter of the network. He has spoken at a MIY-sponsored event about Robotics in the sector and proved that you don't need to spend big to make considerable bottom line change.
He remains an incredibly important part of the MIY family and with his support and guidance we are sure the Food and Drink element of our membership will rapidly grow throughout 2019.
For more pictures of the awards ceremony visit the Made in Yorkshire Facebook page.